Laser Hair Removal for Dark Skin
Laser Hair Removal for Dark Skin in Temecula
There's a common misconception regarding laser hair removal for dark skin tones, suggesting it's unsafe or ineffective. Fortunately, this is far from the truth. Technological advancements have made laser hair removal (LHR) a secure and effective option for all skin types and shades.
Why Should I Choose Laser Hair Removal, or LHR?
LHR is a safe, efficient, and customizable method for eliminating unwanted hair. Treatment duration varies - it can take just minutes to an hour per area, depending on your hair type and other factors. It requires no recovery time, is low-maintenance, and eliminates painful ingrown hairs.
For individuals with darker skin, the choice of laser matters. The best ones for patients of color are the Alexandrite and Nd:YAG lasers. Alexandrite operates at lower infrared wavelengths, while Nd:YAG targets hair follicle melanin, bypassing the skin cells. A combined laser is excellent for darker skin.
Is Laser Hair Removal Painful?
Pain is subjective, and sensations vary among individuals. Some describe laser hair removal as akin to a rubber band snap on the skin – a stinging sensation that is generally tolerable.
If you're concerned about discomfort, your provider can apply a topical numbing cream before treatment to reduce discomfort. They can also recommend other options for maximizing your comfort, such as taking an over-the-counter pain reliever just before your session begins.
What Can I Expect During a Session?
If you choose to have a topical numbing cream, it can take up to 45 minutes for the anesthetic to take full effect, so you'll have to wait for it to become effective.
Before starting laser treatment, you'll be provided with safety goggles for protection.
During the procedure, your skin will be stretched as a handheld device administers heat energy to your hair follicles, focusing on small areas at a time. Afterward, you can go about your day as usual.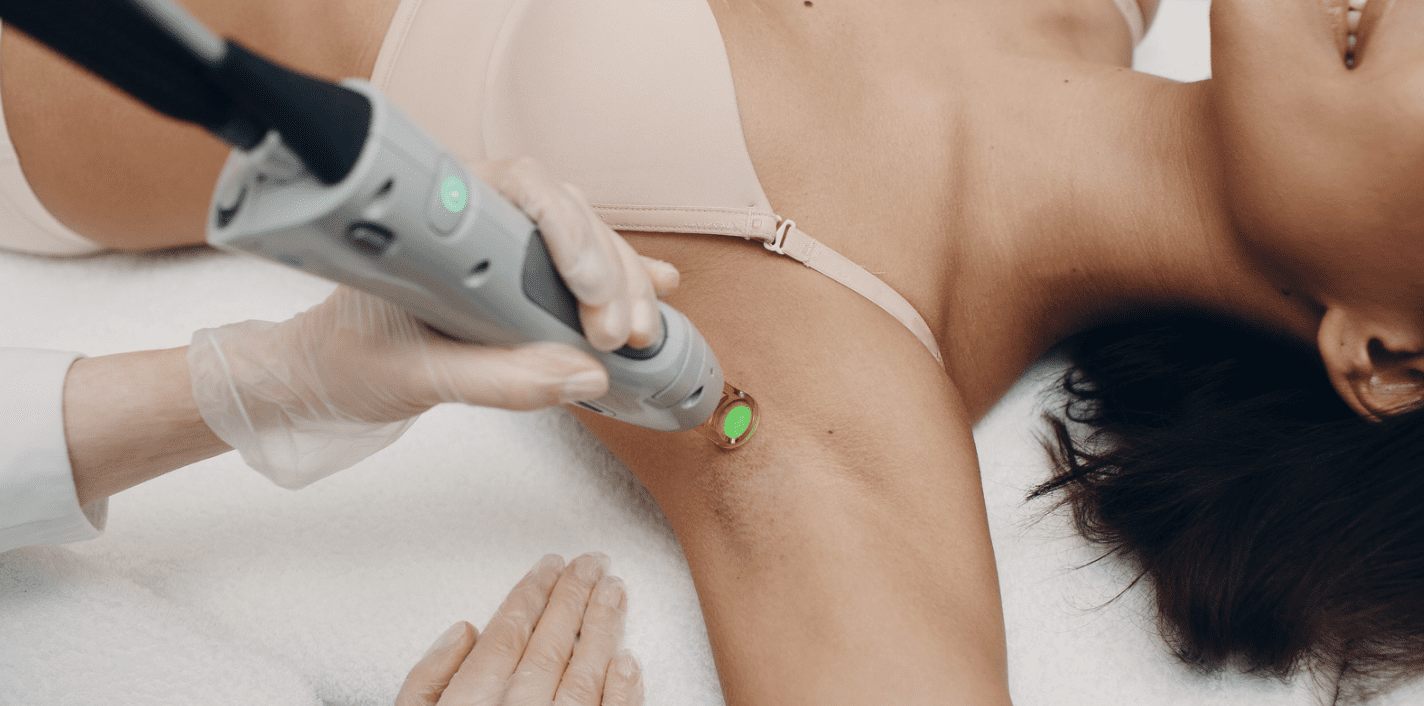 Will I Need More Than One Session for Sensational Results?
Yes, most patients require multiple sessions. The number you need depends on the type of hair being treated and the size of the area(s), as well as other variables. Typically, providers recommend a series of four to six laser hair removal sessions to achieve the best results.
Are There Side Effects Associated With Laser Hair Removal for Dark Skin?
As with any procedure, side effects are to be expected. After LHR, it is possible to experience redness, swelling, and mild discomfort. Temporary pigment changes and irritation are also a possibility. These side effects can last anywhere from a few hours to several days.
How Quickly Will I See Results From Laser Hair Removal?
Results become apparent after about four weeks, which is when hair growth becomes finer and less coarse. As you progress through your treatment, you can expect to see continued improvement.
Am I a Good Candidate for Laser Hair Removal for Dark Skin?
The easiest way to determine your eligibility is by scheduling a consultation with a reputable provider. Information regarding your medical background including your health conditions, medications, and supplements is taken to ensure your safety. 
If it's determined it is safe for you to proceed, you are asked questions about your goals and expectations. All of these details will help your provider create a personalized treatment plan to address your specific needs. 
Where Is the Best Place to Go for Fantastic Results From Laser Hair Removal for Dark Skin?
Choose a New You Aesthetics for safe and effective LHR for all skin tones and types because you deserve the finest treatments from our top-tier medspa. Contact us at 951-972-8911 to book your appointment. Be sure to ask us about special offers to fully enjoy our services and enhance your look without breaking the bank!